Tune-Up Tuesday: Frog Fishing - Braid vs. Mono - New Angler Series
Posted on Sep 22, 2020
By Dave Brown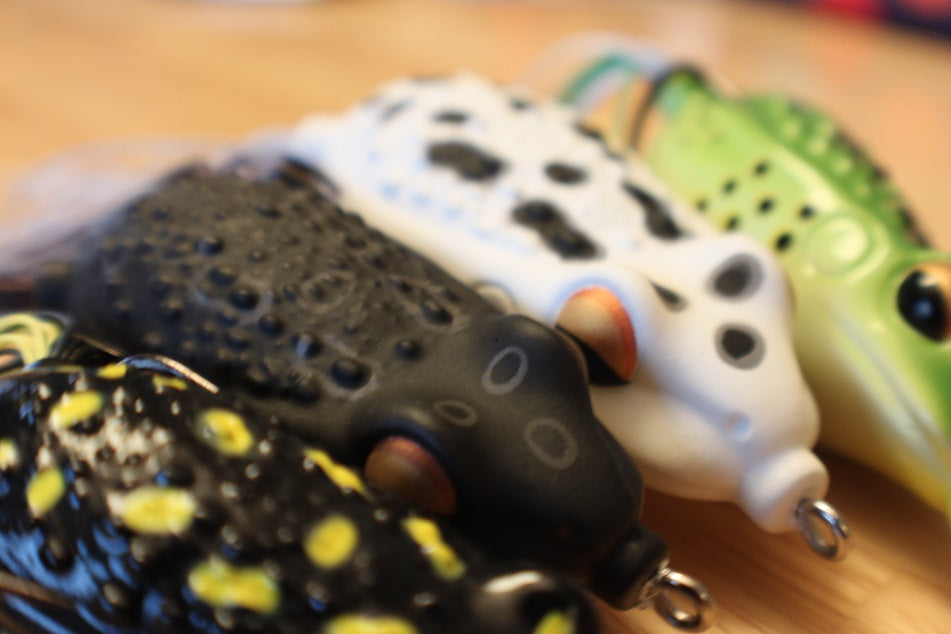 Tune-Up Tuesday: Frog Fishing
You just bought your first frog and now its time to start fishing! 
This article will give you a few tips and techniques to think about as you rig up for your first frogging adventure. 
Top Water Excitement
There is nothing like the excitement of watching a bass explode all over your peaceful little frog dancing across the water.  A big dark shadow approaches, and BAM!, the frog disappears. 
Fishing the frog is a lot of fun. One of my favorites in fact.  Whether you are bouncing your frog off the sand, working it across heavy brush, stumps or grass mats, or tossing it over deep structure, the excitement can be unreal. 
What is a Frog Bait?
A frog bait is just that, a frog.  Or at least an imitation of a frog.  From a very basic frog shaped bait, to the ultra-realistic looking baits, like the new FishLab Rattle Toad, there is a wide variety of baits to choose from.
With options like solid legs, paddle tail legs, PVC legs, open mouth, closed mouth, painted, non painted, glow, etc., you can spend a lot of time looking at a wall of frogs. But what is right for you?
If you are just getting started, a basic frog pattern will work just fine.  Something like the FishLab Rattle Toad is a great little bait with a ton of action and noise.  Coming in at 2 1/4", 2 3/4" and a whopping 3 1/2" sizes, this frog has you covered and they start out at just about $8.50 at your local shop.
The Gear
The gear for frog fishing can range from a very basic spinning combo, to some very advanced technique specific gear.  In general, a rod with some good backbone will do you well.  Personally, I like to use right around a 7'3" Heavy action rod, like the Okuma Cerros 7'3" Heavy rods.  This is part of the Cerros Series that Okuma introduced a couple of seasons ago.  The model is the CRC-C-731H.  Great backbone for setting the hook on a big fish. 
On the reel side, you want a nice sturdy reel with a good drag system.  You can match it up with the Okuma Cerros Baitcast reels which do match up nicely. 
Line Choice and Things to Think About
Once you have your rod and reel chosen, now is the time to get it spooled up.  Here is where you will have several choices.  You can go Braid, Monofilament or Flourocarbon.  Heck, you can do a combination as well.  Braid with a leader if you choose. 
In making your line choice, you want to think about the sort of water you are fishing.  Are you fishing structure, grass mats or open water?  
When fishing any sort of structure or grass mats or lily pads, I like to go straight braid.  The fish are hidden down below the structure, so invisibility of your line isn't that crucial.  I like to fish Soft Steel Covert Camouflage Braid.  This stuff is strong and the color breakup of the line keeps it concealed a bit longer from wary bass. 
In fishing that heavy cover and structure, having that direct connection to the braid gives you instant feedback if you get a bite in case your frog is deep and you can't see it. 
When fishing open water, I will still fish braided line, but will connect a fluorocarbon leader on it.  The Soft Steel Fluoro-Stretch Fluorocarbon is my choice for leader.  65 pound braid to a 25 - 30 pound leader usually does the trick.  If the fish are a little shy, perhaps 15 or 20 pound fluorocarbon leader will do it for you.
The fluorocarbon leader will give the line some invisibility, giving the frog a more natural presentation.  
Here is a quick video of some of the tips and techniques described above.
Conclusion
As I mentioned at the beginning, frog fishing is one of my favorite things to do while bass fishing.  The top water explosions are a total adrenaline rush and the excitement can be non stop.  
I hope the above tips and techniques helped you on your way to putting a few frog fish on your line.

See you on the water!
Dave Brown - Okuma Fishing Tackle